Tidewave, the only choice
Sandnes Health Centre is a short-time rehabilitation centre, where patients arrive from surgery at the hospital or accidents at home. After testing the turning mattress on several patients during the last year, they are not in doubt that its gentle turning is valuable for their patient's needs.
Tidewave was the only accepted turning from one of our patients. He had so strong pains when getting turned manually that he was determined not to get through this procedure during the night, as it was also disturbing his sleep. However, with Tidewave he got his good night's sleep without even noticing the regular turning. He was used to being independent in bed and was very happy to continue his undisturbed sleeping routines – without compensating the pressure relief, nurse Line explains.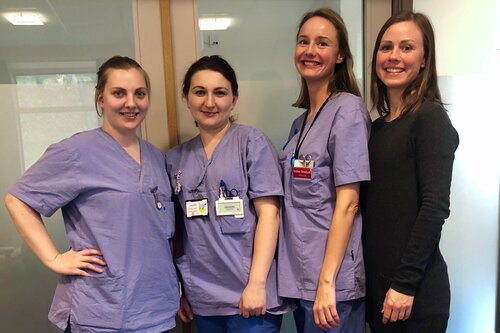 Preventing pressure ulcers
It is a typical dilemma whether to prioritize pressure redistribution or sleep, nurse Kristine adds. – Both are essential for rehabilitation, so often we need to consider which is the most critical at that specific moment. With the Tidewave mattress we do not have to compensate.
Line points out that the patients can have very individual needs. – We also had great value from the turning mattress for a patient that has broken her hip. Her pressure redistribution had to be limited to using her one healthy side, which made manual repositioning a challenge to perform. The custom settings of the turning programs was highly necessary to provide the correct pressure relief on her body.
"It is a typical dilemma whether to prioritise pressure redistribution or sleep."
Many reasons for choosing Tidewave
The four healthcare providers elaborates that there are various reasons why their patients needs the Tidewave mattress. During a year they receive around 500 unique patients divided on their 40 available beds. The regular time spent at Sandnes Heath Centre is varying from a couple of weeks to several months.
Their patient's sickness and injuries are individual, but they all have reduced mobility in common. On average, one to two thirds of them are relying on help for repositioning at least every third hour. – Stroke patients are often bedridden for long periods, and gets manual reposition at least 8 times a day. When we have many of these patients at the same time, it gets extra busy, Ninna confirms.
"On average, one to two thirds of them (patients) are relying on help for repositioning at least every third hour"
Efficient and valuable
Furthermore, the four discuss that the access to regular turning from the Tidewave mattress can lead to more people being able to live longer in their homes. Recurring admissions can be avoided if the patient gets the necessary assistive aids for rehabilitation at home.
Line states that: If a pressure ulcer has already occurred, the patient is in high risk of developing new ones at the same area as the damaged skin and tissue takes around a year before it is fully healed – if it can be healed at all. The turning mattress is therefore a very efficient and valuable alternative both at rehabilitation at our institution and when the patient gets home.
"…the damaged skin and tissue takes around a year before it is fully healed - if it can be healed at all"