Undisturbed sleep
Hanne Sofie first tried the turning mattress at the rehabilitation unit at Sandnes Health Centre. She had a broken hip and was suffering from pain at night when not being able to move herself. The manual help from healthcare workers was useful for pressure relief. However, the moving itself was hurting and keeping her awake for long periods during the night.
– It was a major relief to finally go to sleep without being partly awake and ready for people to turn me. I noticed a significant improvement in my rehabilitation after replacing the manual turning with only getting the continuous movement from the Tidewave turning mattress. By being able to customize the program to only change positions on my healthy hip, the product was the only fit for my need, Hanne Sofie says.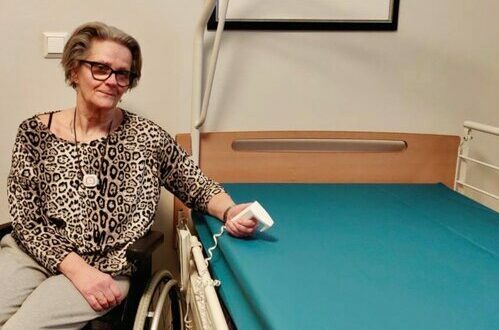 Tidewave Remote Control
Due to her Multiple Sclerosis (MS) condition, Hanne Sofie is relying on some aids in her daily life as well. After her stay at Sandnes Health Centre she got to use the turning mattress for three months in her own home.
– The turning mattress enabled an independent lifestyle for me, she points out. Before that I used an air mattress that was too unstable for me to get out of bed by myself. Tidewave however, eliminated the need for help from the homecare service in the morning.
Opposite from my previous air mattress that could only be managed from a control unit at the foot end of the bed, the Tidewave remote control made me in charge of the turning program. It was very empowering to get to bed and watch tv, and turn the program on whenever I wanted – and to turn it off whenever I wanted to in the morning.
"Tidewave however, eliminated the need for help from the homecare service in the morning."
Increased independence
Hanne Sofie is an active woman and is satisfied to manage most of her day by herself. However, she knows that the day will come when she could need more help:
– If Tidewave can increase my independence for some more years, it will matter a great deal for me! Secondly, I cannot imagine that the homecare unit will complain about not needing to perform the help for turning several times during night and getting out of bed in the morning, she says.
"If Tidewave can increase my independence for some more years, it will matter a great deal for me!"